Dr. Tengis Pavlov Research Polycystic Kidney Disease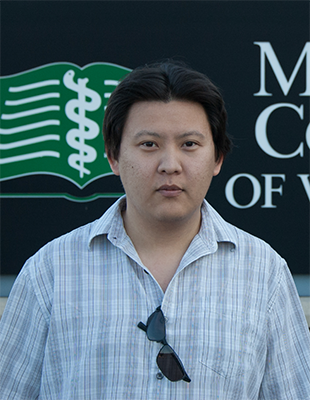 Polycystic kidney disease (PKD) is the fourth leading cause of kidney failure in the United States and researchers are continuing to chip away at the complexities of the disease to discover better therapies and possible cures.
Dr. Tengis S. Pavlov, an Assistant Professor in the Medical College of Wisconsin' Department of Physiology, is one of the researchers looking for clues to combat PKD, which affects an estimated 600,000 Americans.
"There have been several studies suggesting that some treatments may slow the disease's progression, but to date there's no cure for it," Dr. Pavlov said. "Further research in this area is crucially beneficial for the public health."
Dr. Pavlov, supported by a Young Investigators Grant from the National Kidney Foundation, is investigating epithelial sodium channels which help regulate salt and fluid accumulation in the body. He hypothesizes that if these channels are impaired they can cause cyst expansion and PKD progression.
"By testing this hypothesis, I hope we can positively affect diagnosis and treatment of PKD by discovering new therapeutic approaches and targets," he said. "I strongly believe that the basic science aspects of PKD that I am studying are essential to getting treatments into clinics faster."
While his research is focused on studying epithelial sodium channels in autosomal recessive PKD(ARPKD), understanding this relationship would help PKD patients in general. It could allow doctors to predict and treat cyst progression and delay the onset of renal failure.
Dr. Pavlov is aiming to publish his research in 2014, but that won't be the end of his PKD studies. He will expand his work in this field and will also begin looking at other diseases associated with improper salt and water handling in the kidneys.
"I am working on several projects in PKD and other areas related to kidney physiology," he said. "I am also very interested in how high salt consumption can lead to hypertension and I will probably expand my current interests into this area."