Finding A New Way to Detect Kidney Damage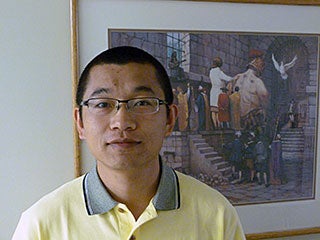 Conventional tests to assess kidney function, including albumin/creatinine ratio (ACR) and estimated glomerular filtration rate (eGFR), are the first line of defense when it comes to detecting kidney disease.
Jeff Zhang, an assistant professor in the Departments of Radiology and Bioengineering at the University of Utah, believes there are ways to identify kidney dysfunction even before kidney damage is detected through ACR and eGFR tests.
"ACR and eGFR only become abnormal only when renal damage is significant," Zhang said. "Renal perfusion and oxygenation are early markers that can indicate kidney tissue injury before GFR falls. If we can assess these markers accurately, we might be able to diagnose diseases early and have more treatment options for patients."
With the support of the National Kidney Foundation Young Investigator Grant, Zhang is currently developing new, safe protocols to use magnetic resonance imaging (MRI) techniques to identify and measure perfusion and oxygenation within the kidneys. Advanced MRI techniques could detect preliminary signs kidney disease, especially in high risk individuals.
Zhang's research will also address potential problems with contrast dyes. Contrast dyes used in imaging can be harmful to the kidneys, so Zhang is also working to assess how iodinated contrast agents in CT scans affect kidney tissue, and will give recommendations on safe dosage for patients with different levels of renal function.
"Understanding how iodinated contrast agents cause renal tissue injury will allow us to avoid the injury," Zhang said. "This will inform the safe use of iodinated contrast agents, and help us understand the general mechanism of acute kidney injury."
Zhang expects his research to be published in 2015, and is hoping it will provide a basis for a cheap, quick and reliable set of functional MRI protocols that would eventually replace the need for tissue biopsy in some kidney patients.
"Our study will benefit patients no matter what their type of kidney disease," Zhang said. "By quantifying renal tissue oxygenation from MRI data will enable early and accurate diagnosis for those affected by kidney disease."