Young Investigator from JHU Recognized for Research in Nephrology
NKF Awards the Joseph M. Krainin, MD, Memorial Young Investigator Award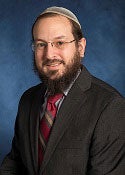 (Washington, DC) – The National Kidney Foundation Serving the National Capital Area announced that Avi Z. Rosenberg, MD, PhD, DABP, Assistant Professor at Johns Hopkins University was the recipient of the Joseph M. Krainin, MD, Memorial Young Investigator Award. This $50,000.00 grant will fund Dr. Rosenberg's research on APOL1-related nephropathies.
This proposal will develop an organoid system that will facilitate studies of APOL1 kidney diseases, including testing novel therapies. This genetic variant is exclusively seen in individuals of sub-Saharan African descent and explains much of the health disparity in renal disease among African Americans. An estimated 12% of the African American population carries two APOL1 risk alleles; this represents 6 million individuals, of whom we estimate that 20% will develop kidney disease during their lifetimes. This is particularly important for NKF/NCA as it is located in Washington, DC – the region of the US with the highest rate of kidney disease in the nation, a problem for which APOL1 variants are likely a leading contributor.
During the last 40 years, NKF has invested over $100 million to support over 1,000 researchers investigating the causes and treatments for kidney disease. The Young Investigator award is funded by money raised locally by the NKF/NCA and is intended for research conducted in the National Capital Area. This grant supports investigators in an early stage of their career whose research expands the knowledge base of renal disease and its treatment.
###
The National Kidney Foundation (NKF) is the largest, most comprehensive and longstanding, patient centric organization dedicated to the awareness, prevention and treatment of kidney disease in the US. For more information about NKF visit kidney.org.